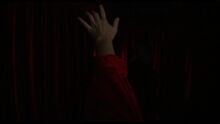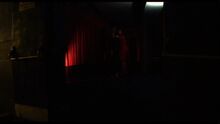 Carolina (Leah Morelli) is a woman in a red dress backstage at Forty Deuce who points Sue upstairs to Mr. K's office.
Although the bouncer at first refuses to let Sue into the club, when she screams, "I know that girl! Carolina! I know Carolina!" the bouncer relents and allows her inside. After Sue sits for a short time, a girl escorts her backstage, where Carolina whispers something to her and points the way to Mr. K. When she points, she seems to control Sue's movements, similar to the way the Phantom controls Doris. When Sue gets upstairs, she tells Mr. K that she does not know what she is doing there, but she was told that he could help her.
Carolina shares her name with two actresses in the film: Karolina Gruszka, who plays the Lost Girl, and Carolina Cerisola, who plays the girl who escorts Sue backstage.