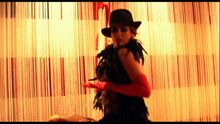 Forty Deuce is a burlesque club in Los Angeles where Sue hides from Doris. Mr. K's office appears to be upstairs from the club.
Carolina
Edit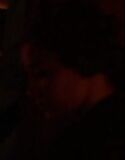 The bouncer first refuses to let Sue in; then, desperate, Sue screams, "I know that girl! Carolina! I know Carolina!" The bouncer steps aside and lets Sue in. Inside the club, a girl approaches Sue's table and escorts her backstage, where a woman in a red dress (Carolina) then points Sue upstairs to Mr. K's office. When Sue gets upstairs, she tells Mr. K that she does not understand what she is doing there, but she was told that he could help her.
Although not named in the film, the scene was shot at the now-closed Forty Deuce. On the Stories feature, David Lynch recalls his first time at Forty Deuce, on Dennis Hopper's birthday, and says that the evening stayed alive in his mind and fed into INLAND EMPIRE.
The band members in the film (Joseph Altruda, Jay P. Work and William McNeil) are played by the club's regular house band. The music cue, "Lisa," was composed by Altruda and is named after the dancer in the scene, Lisa Dengler-Eaton, a regular Forty Deuce performer. Another dancer at the club, Carolina Cerisola, has a brief appearance as the girl who escorts Sue backstage.
Joseph Altruda also appeared in Twin Peaks: Fire Walk with Me as a member of Julee Cruise's backing band at the Roadhouse. In that film, unlike INLAND EMPIRE, he did not play on the actual soundtrack cue, but merely mimed the song onscreen.
The record sleeve for the Lolita soundtrack can be seen on the wall behind the dancer. Lolita is one of David Lynch's favorite films. However, he did not place the record sleeve there: it was already in the club, as part of a wall of album covers with photos of glamorous women in pin-up poses.