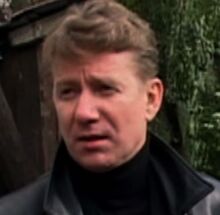 Gordy (Marek Zydowicz) is a Polish man who works for Cyrk Zalewski and seemingly is part of the plot to defeat the Phantom.
He attends a backyard party at Sue and Smithy's house along with seven other members of the circus troupe, apparently to recruit Smithy. He is wearing a captain's hat and a plaid jacket. Upon arriving, he immediately approaches Piotrek and says, "It's 3:00." Smithy, seeming perplexed, replies, "Yes, that's right. You're right on time."
Later, Gordy is staying in a trailer in the woods in Eastern Europe when Smithy and Janek arrive, looking for the Phantom. Gordy tells Smithy that the Phantom is gone, and angrily yells at him, "You're nothing! You've done nothing!" Eventually, Gordy calms down and tells Smithy that the Phantom "talked, mumbled something about Inland Empire."
Marek Zydowicz is an executive producer for the Polish portion of INLAND EMPIRE. He founded the International Film Festival of the Art of Cinematography (Camerimage) in 1993, and was instrumental in recruiting Lynch to attend the festival in 2000, ultimately resulting in Lynch's love of Łódź and decision to film much of INLAND EMPIRE there. (Source: Room to Dream, David Lynch and Kristine McKenna, 2018, Random House, p. 376-77.)