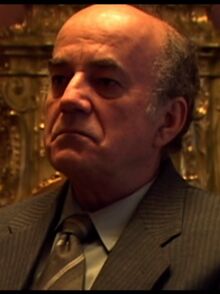 Janek (Jan Hench) is an otherworldly presence who seems to want to stop the Phantom.
Things That Happened
Edit
The Mansion Edit
Jack enters a dark mansion room; as the lights come up, Jack disappears and Janek manifests, hinting at a link between the two. Janek then speaks to the Phantom in Polish. Janek asks if the Phantom is "looking to go in," and the Phantom agrees: he is looking for "an opening." Janek says he understands, and the Phantom repeatedly yells that he is glad Janek understands, while Janek fades away in a blur.
Sue's Reality Edit
Janek teams up with Smithy in Poland to find the Phantom. They drive to the site of a few trailers in the woods. Janek waits by the car while Smithy approaches a trailer, and is told the the Phantom left for Inland Empire.
He later accompanies Smithy to a séance in Poland held by three old Polish-speaking men. The men give Smithy the gun which is used to kill the Phantom.
Analysis
Edit
The fact that Janek appears when Jack disappears (and vice versa) in the Mansion scene may indicate that Janek is a manifestation of Jack. However, Janek subsequently appears in the same room as Marek, who is almost certainly a manifestation of Jack, so it is possible that Jack merely arranged or covertly observed the Mansion meeting.