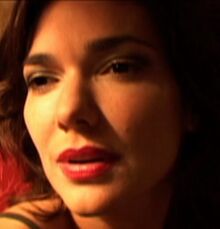 Laura Harring appears in the end credits sequence. Her character is unnamed: she is credited only with a "Special Appearance." She appears in Nikki's mansion along with many other assorted individuals. She blows Nikki a kiss, which Nikki returns. She then flirts with a nearby man, credited as "Trainyard Worker."
Laura Harring also plays Jane.
Laura Harring starred as Camilla Rhodes/Rita in David Lynch's previous film, Mulholland Drive. Some have speculated that her Inland Empire character is Camilla in the afterlife.